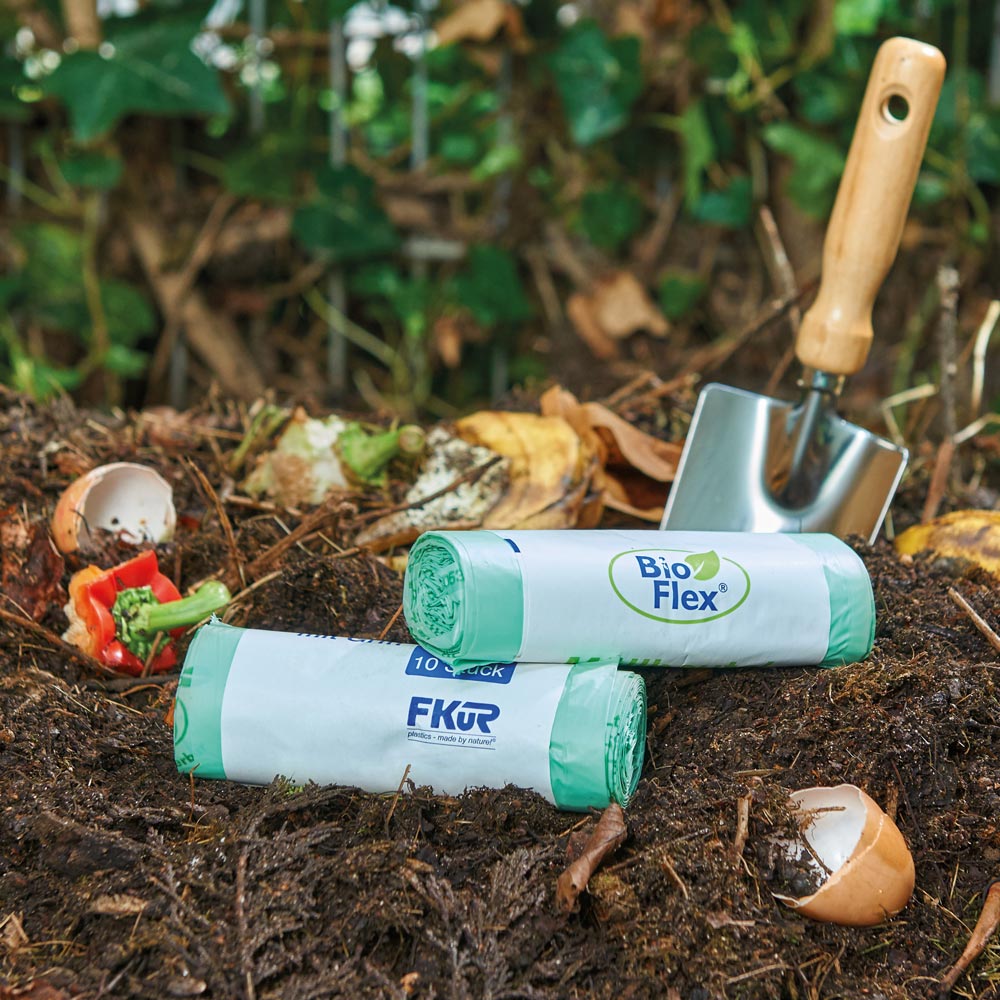 German Federal Council makes a statement in favor of resource conservation and greater sustainability
Certified compostable organic waste bags supported by the German Federal Council
On Friday, 11.02.2022, the German Federal Council passed the amendment to the Biowaste Ordinance. The key points of the amendment were the reduction of plastic entering the environment and a higher quality of compost, whereby stricter limits for contaminants now apply. However, the Federal Council sent a clear signal: certified compostable organic waste bags continue to be permitted for the collection of organic waste. As a manufacturer of sustainable plastic solutions , FKuR fully approves and backs this decision.
Collection of organic waste is easy and hygienic with compostable organic waste bags
The compostable organic waste bag is made from mostly renewable raw materials and certified according to internationally recognized regulations and standards to meet high normative requirements. Consumers use these bags to easily and hygienically dispose of organic household waste in the brown garbage container. In this way, organic waste ends up where it belongs: in the organic waste garbage container and not in the residual waste! Organic waste bags help to close the natural cycle. They increase not only the quality but also the quantity of separately collected organic waste, so that more valuable biomass can be recycled appropriately.
Ecologically and economically advantageous
A study commissioned by the German Federal Ministry of Agriculture confirmed the ecological and economic advantages of the biowaste bag. The scientific team involved in this study also includes our long-term partner, the Fraunhofer Institute UMSICHT in Oberhausen, Germany.
A large number of scientifically monitored practical tests have also shown that compostable biowaste bags lead to a more significant reduction in non-degradable plastic bags in biowaste and thus to a reduction in microplastic entering the soil as a result of composts and digestate.
This is an important goal of the amendment. We as FKuR are convinced that, against this background, compostable collection bags are of great importance in ensuring high compost quality.
Compostable organic waste bags degrade completely
The complete degradation of the biodegradable plastics and products made from them is worldwide approved, confirmed and specified in relevant standards and laws, e.g. DIN EN13432, ASTM D-6400. Multiple compost analyses have shown that the approved "Biodegradable Plastic Collection Bags" are completely degraded in industrial composting plants. At the same time, they are guaranteed to be free of harmful substances and do not produce microplastics . The certified compostable biowaste bag is not an impurity or contaminant and, according to the amendment, continues to be permitted for the collection of biowaste.